Champagne
CERTIFIED WITHOUT ADDED SOFTNESS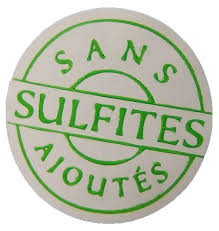 CHAMPAGNES WITH NO-ADDED-SULFUR CERTIFICATION
The champagnes natures correspond to no-sulfur-added champagnes. The rate maximum authorized in champagne is 185 mg / Litre. The sulfur in vinification is called Sulfite or so2. It's a stabilizer and antioxidant from wines, the champagnes natures seek to express their identities in the most sincere and pure way. No-sulfur-added champagnes often come from fields in biology or biodynamics (certification that does not prohibit sulfur, but limits it). You have to be precise and meticulous in your winemaking to obtain a quality wine. champagne nature and avoided deviations (oxidative, for example).
CERTIFIED NO-ADDED-SULFUR CHAMPAGNE
Alcohol abuse is dangerous for your health. Consume in moderation.

Champagne?
Yes in 3 sentences, born in one of the most beautiful regions of France which is Champagne, born in the heart of Champagne, more precisely on the Côte des Blancs and then yes the champagne here in Champagne it is almost daily and always with moderation because alcohol is dangerous for health.

Quality products
All the products offered on the Grande Cuvée website are quality products that we have selected for you...you can trust us.You can reach us 7 days a week, 24 hours a day at 06.49.78.20.57.

Fast delivery
Free shipping from 180.00 euros TTC (except by Colissimo) for Metropolitan France. The delivery time will depend on the place of deposit, then count between 24 to 72H (working days) in Metropolitan France, Corsica 24 h more, Europe between 4 to 8 days and for other countries consult us.

Sound advice
Some will say "this brand is good, it is known!!!", others will say "if we tried something else!!!", the tastes and colors are unique to each, now it's up to you to make an idea on what you want to taste by reading carefully my remarks ... enjoy!!!